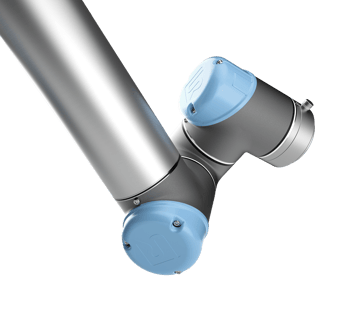 Collaborative Robots Used In Plastics Injection Molding

Easy Programming | Fast Setup | Flexible Deployment | Safe with Humans
WATCH VIDEO:
Demo Adding a Universal Robot to an Arburg Injection Molding Machine
Collaborative Robot systems are a fast and affordable way to improve productivity, quality and safety in plastics injection molding. Collaborative Robots, or Cobots, work safely alongside human operators and can be quickly setup with no programming experience.
Robot Systems using Universal Robots' collaborative robots are affordable and can be deployed for under $40K! The top ROI operations:
1. De-Molding: removing parts directly from the mold
2. Finishing: trimming, de-gating, sanding
3. Quality: reject bad parts & notify support personnel with a machine vision system
4. Assembly: secondary operations such as assembling or kitting molded plastics parts
5. Final Packaging: place parts to an array in your boxes with layer dividers
---
Let MSI TEC help you design a gripper to match your molds!
Learn How

Cobots Can Benefit Your Business
Fill out the "Request a Demo Form" or call 866.397.7388.